Served with a Greek salad and natural cut potatoes choice of whole wheat bun available Choice of sides available
All melts are served with your choice of 2 sides. Caramelized red onions and american cheese melted in between two slices of grilled rye.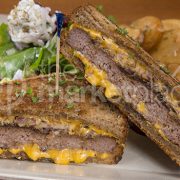 • Classic Pattie melt • Chicken breast melt • Tuna melt.